Colt Licensed Sportsline M4 AEG by Cybergun
PRODUCTS  LINK (Several Different Models)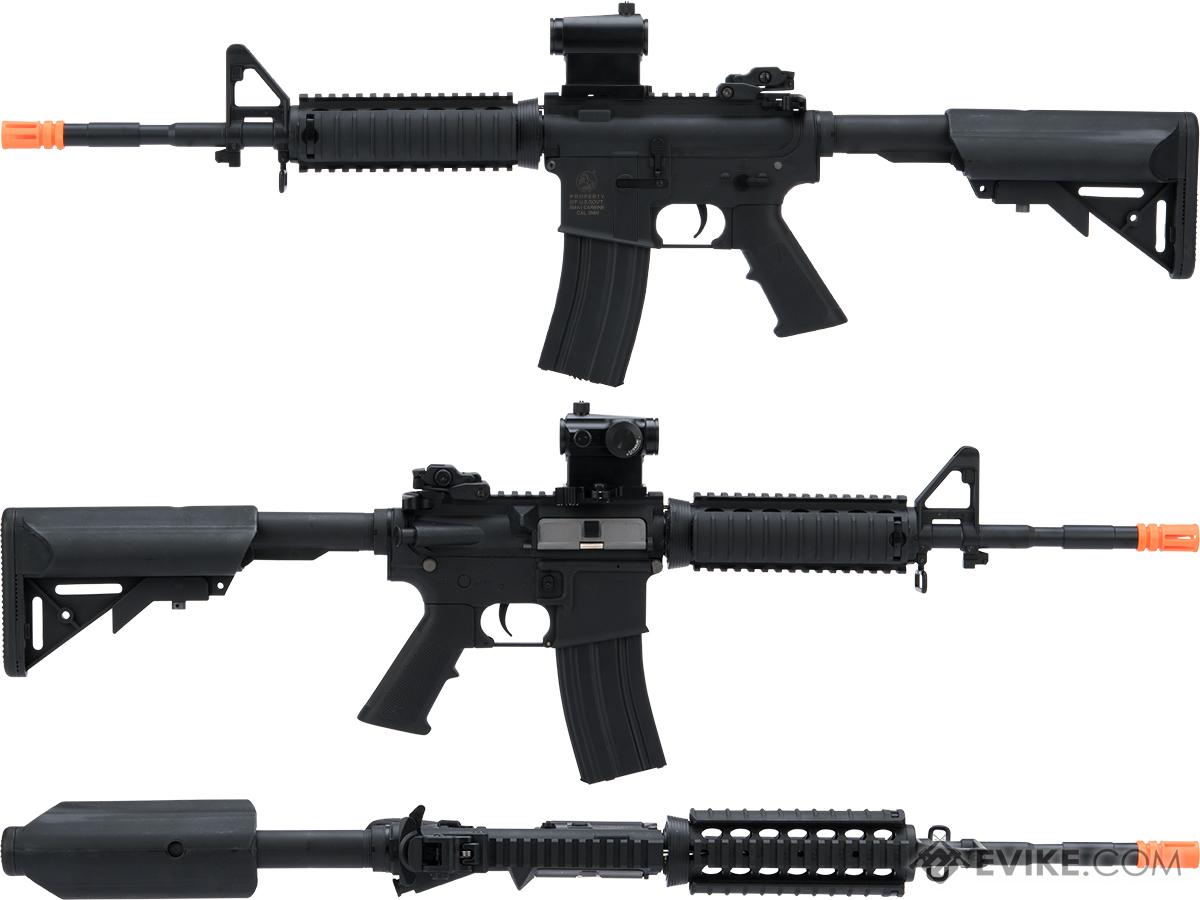 Features (*on Most)
Nylon fiber reinforced polymer upper and lower receiver w/ laser engraved Colt licensed trademarks
Classic M4A1 polymer two piece handguard
Metal barrel assembly
Copper inner barrel
Metal 8mm bushing gearbox with quick release spring
Rotary hopup unit
Adjustable length of pull stock
Metal front sight w/ polymer carry handle rear sight
Patterned after the original ArmaLite AR-15, Colt rifles have been in the hands of the US Military as well as many civilian enthusiasts since the adoption of the M16 combat rifle. Through years of hard use and first hand feedback to improve and evolve the weapon platform, the Colt M4 and M16 has risen to be one of the most popular and trusted combat rifles around the world.
Length: Varies (Adjustable)
Weight: Varies
Inner Barrel: Varies
Magazine Capacity: 300rd Hi-Capacity. Works with Matrix, G&G, Tokyo Marui and other compatible M4 / M16 Series Airsoft AEG Magazines
Muzzle Velocity: ~370 FPS (Measured with 0.20g BBs)
Thread Direction: 14mm Negative
Gearbox: Ver 2 Metal
Motor: Long Type
Fire Modes: Semi/Full-Auto, Safety
Battery: 9.6v Small Butterfly Type recommended (Battery not included. Wired to handguard with small Tamiya connector)
Hopup: Yes, Adjustable
Package Includes: Gun, Magazine, Flip up sights, Manual
Manufacturer: Cybergun
FPS: 370
About Cybergun / Spartan Mil/LE
Cybergun is the world leader in designing and distributing replica dummy weapons for video game aficionados, sport or outdoor shooting, and collectors.
Please follow and like us: